Commercial and Industrial
Beon is a company of dedicated professionals with a focus on bringing the latest, proven technologies to market to help you navigate the changing energy landscape. We understand the energy market and combine our core capabilities of safety and reliability with a passion for bringing you the cutting edge solutions for your business.
Backed by global infrastructure leaders Cheung Kong Infrastructure with over $170 billion market cap, we provide end to end solutions for our clients, including; project financing and ownership options, bespoke consulting and solutions design, construction, project
Let our expertise, become your competitive advantage.
We've chosen Next Generation Electrical as our installation partners because they share our core values and commitment to excellence and safety.
Our installation partners are Clean Energy Council (CEC) Accredited. The CEC was instrumental in ensuring that solar PV systems and inverters met compliance, safety and reliability standards. Clean Energy Council accreditation is a qualification that demonstrates an installer's competence in design and installation of stand-alone and grid-connected solar PV systems.
We've committed to a voluntary scheme for retail businesses selling solar PV systems to households and businesses. Authorised by the Australian Competition and Consumer Commission (ACCC), the code aims to lift the bar higher than the minimum requirements set by government and regulations and bring about a better standard of service within the solar industry.
Products & Solutions
We can help you reduce your operational risk by taking control of your energy costs through our product and solutions offer:
Commercial Solar (Ground Mount & Rooftop)
Power Quality (Power Factor, Voltage Optimisation)
Small Scale Solar Farms
Industrial Battery and Demand Management Solutions
Efficiency Upgrades (LED Lighting, etc)
Energy Consulting Services – ENEA
Case studies
We work with customers across Australia on projects that range from residential installations through to utility scale generation. We can tailor solutions meet your needs and budget. Click below to hear from our partners.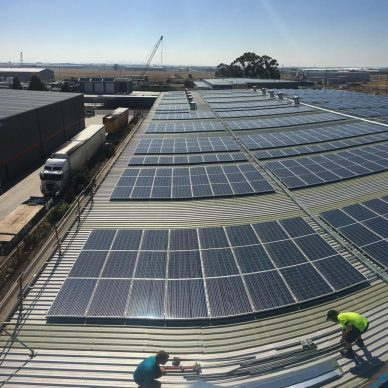 "We chose Beon Energy Solutions for their honesty, expertise, and professionalism. They helped us identify the most cost effective and efficient system for our business and brought us the EUA opportunity to finance the installation. Beon made investing in solar a simple and positive process. "
Daniel Carapellotti, CEO, Class Plastics