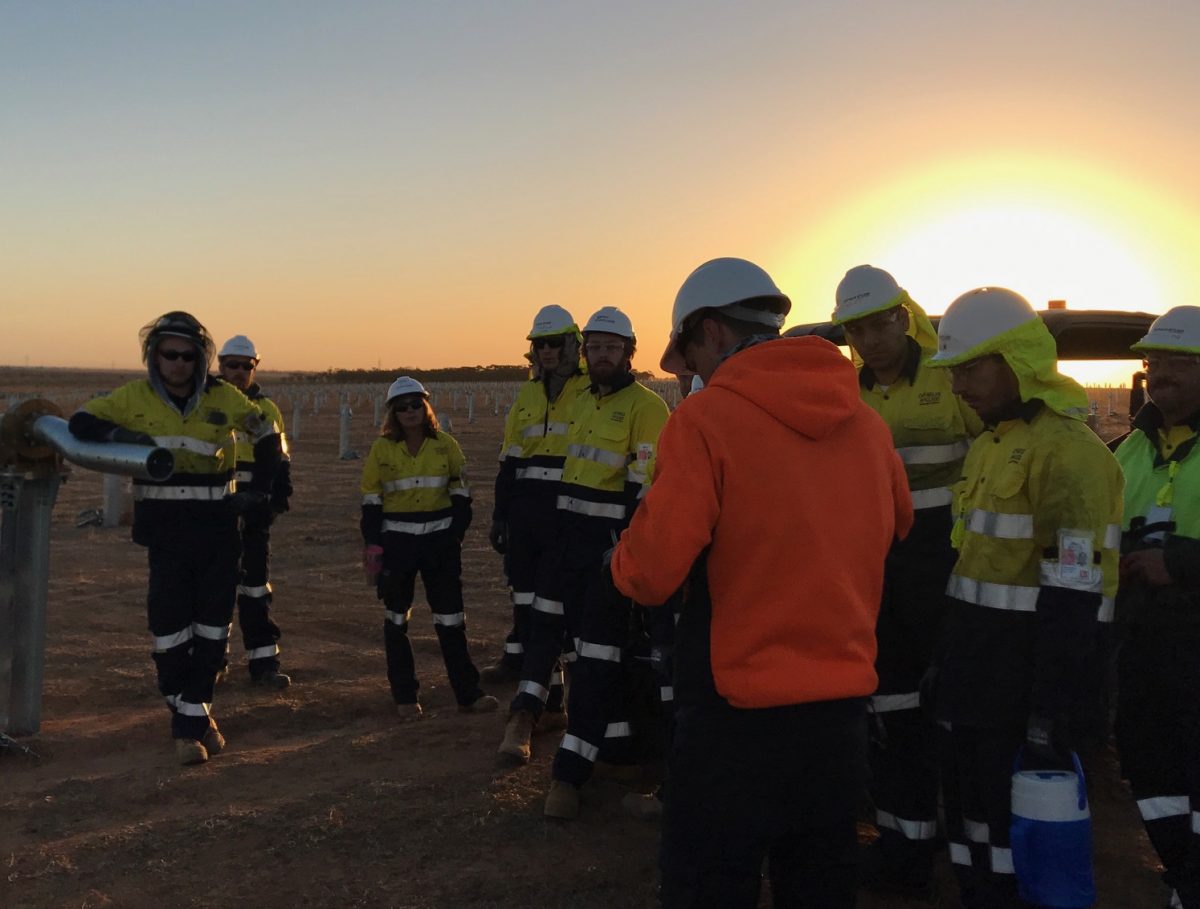 People in the Mildura region can apply for a new program specifically developed to provide the skills needed to work in the growing local solar industry.
Beon Energy Solutions approached SuniTAFE about developing the course after winning the tender to design and construct the 112MW Karadoc solar farm earlier this year.
Participants in the six-month Solar Industry Career Pathway program will receive training in the Certificate II in Electrotechnology (Career Start) at the registered training organistion, SuniTAFE Mildura. They will also receive employment on solar farms in the Mildura region and wages during their four weeks of off-site training at SuniTAFE.
The participants will be employed by labour hire company Chandler Macleod, which is managing the on-site workforce at Karadoc.
Beon's General Manager Glen Thomson said the pilot program was developed through a partnership between industry and TAFE.
"We believe this program is a first for the region, and possibly the state, and is definitely a win for everybody – TAFE, industry and, importantly, the trainees," Mr Thomson said.
"The Sunraysia area is the hub of the solar industry in Victoria and is providing local employment opportunities and job growth.
"When we originally began investigating how to fill the job roles at Karadoc solar farm and several other projects in the region, we found there was an opportunity to design a program that would give people in the local area training and on-the-job experience that would benefit them and the local industry.
"Employment during solar farm construction is only for a relatively short timeframe and, as such, opportunities for those without work experience may be limited as companies often do not have the time or resources to train people.
"To address this, Beon has been working with SuniTAFE to investigate ways Karadoc Solar Farm could provide both training and on-the-job experience working in the burgeoning solar industry.
"This program is about providing people the skills, capacity and employment prospects while at the same time providing a skilled and reliable workforce for both this project and future projects."
Mr Thomson said they were looking for people who were enthusiastic about working in the solar industry.
"It's an exciting time to be part of the industry – the way we are generating power is changing and these roles will give people the opportunity to be at the forefront of this transition," he said.
"We are looking for people from a range of backgrounds, ages and skill levels, from school leavers to those who are looking for a career change.
For media inquiries phone Beon Energy Solutions media on 03 9683 4802.
"This initiative is about investing in the long-term future of the renewable energy industry – we know that the sector is growing and having the right people with the right skills in place will further contribute to this change."
 Information sessions will be held on Tuesday, 15 May, 1-2pm and at 5.30- 6.30pm at the Auditorium, SuniTAFE, 453 Benetook Ave, Mildura
For more information about the program, phone (03) 8629 2616 or email Beonsolar@chandlermacleod.com